HalfBred

grunt gallery, Vancouver BC 1995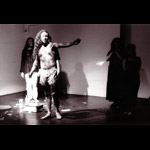 click images to view
"HalfBred" was performed during the grunt gallery art series of the same name, with Anthony Favel, Adrian Schamberger, Teri Snelgrove and Debbie Charlie.
Performance script
Before the performance begins the audience is seated outside the gallery looking in. There are PA speakers outside, I am wearing a lavalier mic.
BLACKOUT
GO VIDEO CUE 1- "The tribal people here were all very aware that the whites put great store in names. But once the whites had a name for a thing, they seemed unable ever again to recognize the thing itself." - from "Almanac of the Dead" by Leslie Marmon Silko.
END VIDEO CUE 1
GO VIDEO CUE 2 - "Halfbred" - A performance by Archer Pechawis
END VIDEO CUE 2
(Enter Anthony and Adrian. They play a lament for the dead while Teri and Debbie push me onstage, dead on a bier which has four white and red candles burning on it. At the end of the lament all four helpers stand around my body.)
GO SOUND CUE 1 - V.O. TAPE
It wasn't always like this. I know it was different, once. When I was a little boy, race and history did not exist. There was just... me. It's like the chicken and the egg, except that while the halfbreed cannot exist without the indian, the indian can and does exist without the halfbreed. But without the halfbreed there would not be the question, would there? No. The issue would be a simpler one, the indian and the gulf between. I would not be here. There would be no messy connective tissue between indian and non-indian, nor between any of the four colours. Imagine the issue of race without the annoying gristle of mixed blood. Imagine how clean it would be. Final solutions could be achieved so much more ... cleanly.
I can't remember when I first realised I was an indian, nor can I remember if I knew that I was a halfbreed first. But was it realisation, or was it memory?
(The helpers blow out and remove the candles, connect the mic cable, stand me up and lay the bier on the floor.)
END SOUND CUE 1 - LOAD NEXT TAPE
LAV MIC UP
GO SLIDE 1 - me at four years old
GO LIGHT CUE 1 - WHITE SPOT UP
(standing) I'm four years old and I'm standing naked in front of a mirror. I just got out of the tub and I'm clean. I'm clean and I'm staring at the mirror, staring at my reflection, trying to find the line. I know I'm half indian and half white, (The helpers begin painting) but where is the line? There must be a border. My genitals are darker brown than the rest of me. Is that my indian part? Perhaps I'm indian from the waist down. I cannot find the line...
My white aunt Dianne comments on my darkness, she says it's okay 'cuz white girls like dark meat. I don't know what she means, but I soon find out. One of my mom's white friends sexually abuses me after a drinking party at our house.
It doesn't help. I still don't know where the line is.
END SLIDE 1
The next year I'm in kindergarten. I am the only indian in the school. I'm outside playing at recess and I mention something about being an indian. The little white children surround me, they say I'm lying. "You aren't an indian. Indians live in teepees and we know you live in that house on the corner." But I am. I am an indian. "Well if you're an indian, prove it." Prove it? How? "Do something indian". What do indians do? The only indians in my life are me, my mom and my brother, and nothing about our lives seems particularly "indian" to me.
GO SLIDE 2- me, Max and Mom on the elephants
The children are jeering, calling me a liar. I look around, desperate. From the baseball diamond where we stand I see dark rain clouds rolling in. "Okay, I'll make it rain. I'll do a rain dance and make it rain. Follow me and do what I do." I start dancing around the baseball diamond, whooping like the indians in cowboy movies. The kids follow me, and coming around third base it begins to rain. The kids howl with delight. They know I'm an indian now. I made it rain. I am amazed at how stupid they are. They must have seen the rain clouds, they must have known it would rain, but that they don't want that. They want to believe in their idea of what indians are.
END SLIDE 2
Nobody fucks with me after that.
GO SOUND CUE 2 - POWWOW DRUMS
GO SLIDE CUE 2.1 - ME AT EIGHT
I'm eight years old and I'm sitting in the stands with my mom and dad at my first powwow and something is awakening inside me. It's the music. For the first time in my life I know what it means to be an indian and I'm so happy I want to cry and shout and sing powwow songs and learn to dance and a look of understanding passes between me and my mom and she knows how I feel because she feels it too because we're indians! I understand now. But the music is having the opposite effect on my father, I can feel his discomfort. He's shifting on his seat. With an embarrassed laugh he says loudly, "Sounds like those guys are in pain!". My mother and I look at each other in disgust. We are disgusted my father for being such a stupid white man, and I am disgusted with my mother for marrying him. Why didn't she marry an indian?
GO SLIDE CUE 2.2 - WEDDING
END SLIDE CUE 2.2
Later that night I'm hanging out with some of my cousins at my granny's house. It's a warm summer night and the sound of the powwow carries across the prairie. My cousin lets out a shout and points to the sky. Above us the northern lights are out, and they are dancing in a circle to the sound of the drumming. I stand dumbstruck, chills going up and down my spine. At school they've taught me that the Aurora Borealis is caused by solar radiation hitting the Van Allen belt, which then glows. This does not explain them dancing in a circle to the powwow drums. They also taught me that primitive cultures thought they were the spirits of the ancestors going to heaven. This makes a lot more sense to me right now. The indian feeling from the powwow comes back.
END SOUND CUE 2 - CROSSFADE TO SOUND CUE 3 - "HALFBREED" LOAD NEXT TAPE
I'm in grade three, living in Edmonton with my brother and my mom. I'm walking back from the store with my brother and my best friend Blake Johnson. He's white. We're standing at a corner waiting for the light to change when Blake starts making a joke about Cher's new song, Halfbreed. "Halfbreed, ugh, ugh!" There's a native woman standing next to us on the corner. Blake doesn't seem to notice her. She gives us a dirty look. Blake carries on, oblivious. Her glare settles on me. I realise she thinks I'm white too. I am so embarrassed I want to die. I want to explain to her that I'm an indian too, but I can't figure out how I will explain being friends with this little white idiot. The rain dance trick won't work with her. She's a real indian.
END SOUND CUE 3 - LOAD NEXT TAPE
Don't get me wrong, it hasn't been all bad. (The helpers stop painting, go into the back room and get props) The up side of being a halfbreed has been very good. I can easily pass for white, jewish, italian, spanish, greek, you name it. My life has been one of ease and privilege compared to that of my reserve cousins, but I benefit from the suffering of indians everywhere. Indian blood gets you deep sympathy from most white folks, at least from the ones who don't actually know any indians, and top billing in the hierarchy of oppression. I know what I'm talking about. I've built a career on it.
GO VIDEO CUE 3 - "You are watching "Halfbred", a performance by Archer Pechawis. For booking information call grunt gallery @ (604) 875-9516"
END VIDEO CUE 3
(walking over to the house dimmer and bringing up the house lights)
GO LIGHT CUE 2 - WHITE SPOT OUT SLOW
How are you feeling? What do you think of this performance? I realize these questions aren't easy to answer, especially now that I've done the obligatory "Indian reveals childhood sexual abuse" section. I've done a number of performances here at grunt and some of them were terrible, but no one ever said so. We're all prisoners of the pretensions and conventions that force us to "enable each other in mediocrity", but I want my community to support me, not enable me. As an artist I need your constructive criticism to grow, but that said it really is a rhetorical question and this is my performance so don't fucking try it.
GO VIDEO CUE 4 - Deblekha credit - END VIDEO CUE 4 after fifteen seconds
Oh, one more thing. I'm tired of white people whining about how "political correctness" has made it so difficult for heterosexual white males to get ahead these days. As a halfbreed I've worked both angles and being a white boy is a piece of cake, so get the fuck over it.
I turn the house lights off and return to center stage.
GO LIGHT CUE 3 - WHITE SPOT UP
The indian helpers dump the contents of a garbage can over my head, leaving the lid beside me. The white helpers bring a liquor bottle, earth, water, and matches. I collect a pile of garbage in front of me, douse it with the alcohol and light it on fire. I smudge with it.
As an artist of First Nations descent I believe in presenting a united front with other native people around political and cultural issues, but I am sick to death of indians in my community telling me how spiritual they are when they're pissed out of their skulls.
GO SOUND CUE 4 (AFTER SMUDGING IS FINISHED) - "Funny, you don't look like an indian."
END SOUND CUE 4 - LOAD NEXT TAPE
I don't look like an indian? Well you don't either, so what makes you a fucking expert? These people then turn around and relate a story which illustrates how sympathetic they are to the plight of aboriginal people, and then end with another story of how a drunk indian said mean things to them on a bus in Winnipeg. They then wait for me to say, "No, no, it wasn't your fault. You are a good white person and as a native man I want to assure you that I like you a lot." Well, you're in for a long fucking wait.
All my life white people have been asking me to explain indians. Not once has an indian asked me to explain white people. But worse than that is when white people try to explain indianess to me.
I was at a party when a white woman asked me about my heritage. I told her my mom is plains Cree and my dad was white. "Oh", she says, "You're Métis!" No, I say, I'm a halfbreed. "No, you're Métis!" No, I'm a halfbreed. "No, I've done a lot of research on this. I wrote a paper on it in university. You're Métis." Great. Now I'm not even a fucking halfbreed. I smear my face paint
GO VIDEO CUE 5 - Edgar Heap Of Birds quote - "Today the criterion of Indianess is suffering the pain of our culture, which is expressed in our traditional way "together". A true Indian can not claim to be Native one day and not Native the next. The mark of being the Native experience can not be measured by a blood fraction."
I mix the earth and water and begin smearing myself with the mud.
END VIDEO CUE 5
GO SOUND CUE 5 - POEM V.O. TAPE - LAV MIC OUT
I am constantly besieged by white people telling me all about their indianess, an indianess they don't have to suffer for, indianess they can have deep feelings about when it's convenient, indianess that gives but never takes. White people insisting on their right to step inside a romanticized sweatlodge world of nobility, mystery and spirituality until the rocks get too hot.
(Laying back down on the bier)
the next time you want to tell me about being an indian
cut out my ears
cut out my eyes cuz I don't want to hear
of your childhood running with loincloth and bow
of fasting for hours and that's how you know
the pain you felt that time on the street
when the toothless man asked you for something to eat

the next time you want to tell me about being an indian
tear out my breath
tear out my heart and leave me for dead
No. Say you'll raise money to bring back our dead
or carry the coffin at a funeral instead

the next time you want to tell me about being an indian
Don't.
BLACKOUT